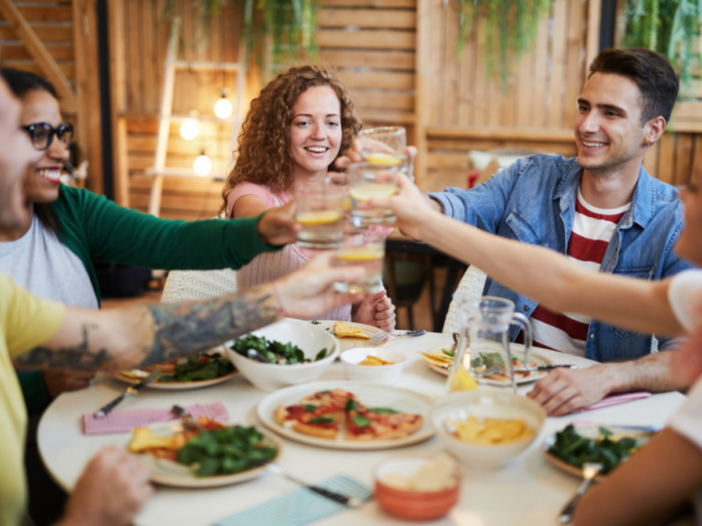 Eat Well During Thanksgiving
Thanksgiving is upon us. And for many people in the United States, Thanksgiving is synonymous with food. Sure, Thanksgiving also means family gatherings, or shopping sprees, or catching up on sleep, Netflix and laundry. This year many of us are facing a very different Thanksgiving ~ perhaps fewer people to eat or celebrate with, less travel, maybe even less in person shopping! Whether you are alone, celebrating with friends, or sitting down to a real feast, I hope you plan to eat some food over the break that is nourishing and satisfying. I want to share some tips with you about how to get the most nourishment out of the food you eat by practicing a few simple things.
Did you know that our bodies process our food based not just on what sort of food it is (protein, fat, carbohydrate, etc.) but also based on HOW we eat? A lot of people don't know that when we eat while we are in a stressed state, our body assumes we are under attack, so "stores" our food as an emergency measure. When we are relaxed, our body knows it is safe to process and assimilate the food to nourish us in the present moment! So, I invite you to experiment with some ways of eating that can help your body take in the food as nourishment, and help you feel more satisfied as well.
TIP 1: USE YOUR SENSES
Often we eat our food and barely noticing what it looks like, smells like, or even how it tastes. If we are distracted, we might not even realize that we've eaten our food until we look down and notice it's gone! Our brain and body can digest food more effectively if we link up our senses (sight, smell, taste, sensation, sound) with the process of eating. Take a minute to look at your food. Notice the different colors (more colors usually means better nutrients, so shoot for the rainbow). Take a big breath in and smell the aromas. Our taste is linked to smell; we heighten our enjoyment if we smell our food as we eat. Also, can you hear different sounds while you chew? Crunch? Slurp? Moosh? Can you feel different textures and temperatures in your mouth? What specific tastes do you notice?
TIP 2: BREATHE
Even when we look forward to eating a meal, we may be stressed out when we sit down to eat. Getting food ready can be hectic. Something may happen before the meal that makes us "charged up." Sometimes there are tensions with people that make eating together strained or awkward. Maybe we are away from people we want to be with. When we eat when we're stressed our body is "on alert", so it stores the food we eat for future emergency use. Whatever the reasons for stress, give yourself permission to relax before you eat food. The easiest way to relax is to BREATHE. Look at your plate (see instructions above). BREATHE. Take a breath in and let it out. Smile. Take breaks during your meal to stop and breathe. When we relax our bodies can use the food we eat as nourishment, not emergency stores for later.
TIP 3: CHEW! (SERIOUSLY – CHEW A LOT)
Many people chew their food 2-3 times before they swallow. We might as well open a door directly into our stomach and say: "Open up! Here it comes!" Chewing our food is the first part of digestion. Chewing breaks food into smaller pieces, mixes saliva with food, which helps our body assimilate it. Chewing also takes time. Did you know that it can take the brain 15-20 minutes after food arrives in your stomach for the brain to "get the memo?" When we eat very rapidly our stomach may be getting fuller, but our brain doesn't know it yet. When we chew (and breathe, and take time to enjoy our food) we give our brain time to catch up with our stomach. Then, we are less apt to overeat–thinking we are still hungry when in fact we have just not gotten the message from our stomach that it's full.
Whatever Thanksgiving looks like for you this year, and whatever food you have the privilege to eat over the break, I invite you to experiment with these ways of eating. They are a simple way to support your health and wellbeing, without changing anything about what you eat.
RECAP
Use your senses when you sit down to a meal: sight, smell, sound, texture and taste.
Breathe. Breathe before you start your meal. Take breaks to breathe. Relax and Smile.
Chew. Chew a lot. See how many times you can chew one bite before you swallow. Have a chewing contest with someone! Who can chew longer? Make it fun…
The most important thing you can do to support your health when you eat is to slow down, enjoy your food, and relax. Happy Thanksgiving.
Written by Ginger Morgan, PhD
Director of Candid–Health and Life Coach