---
About Us

Candid was launched in 2019 by the Presbyterian Student Center Foundation (Pres House) in response to the need for additional student wellness support. Pres House is a Madison non-profit organization whose mission is to support the intellectual, emotional, and spiritual lives of UW students. Candid has no religious requirement and is open to students with any — or no — faith perspective.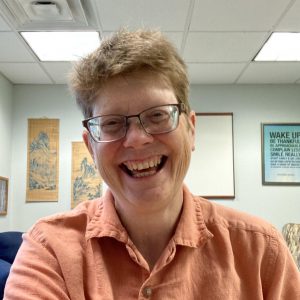 Ginger Morgan (she/her/hers) serves as the Director of Candid. Ginger is certified as a Health and Life Coach and holds a Ph.D. in Religion and Psychological Studies. She has worked with UW students since 2012, providing and leading the intentional living programs at Pres House Apartments.  She completed health and life coach training in 2019 in order to offer coaching and wellness strategies to students interested in improving their well-being.
In her spare time, Ginger enjoys playing disc golf, reading fantasy novels, watching action movies, and spending time in the family vegetable garden. Having studied and lived abroad for several years, she especially enjoys working with international students adjusting to life in the United States. She grew up in a small midwestern town and has lived in Nashville, Colorado Springs, Boise, Fond du Lac, and Mussoorie India — and now Madison.
Ginger is supported in her work by other Pres House staff. She looks forward to getting to know more about you! You can contact Ginger for more information or set up a 1:1 appointment to discuss anything related to your life as a student.