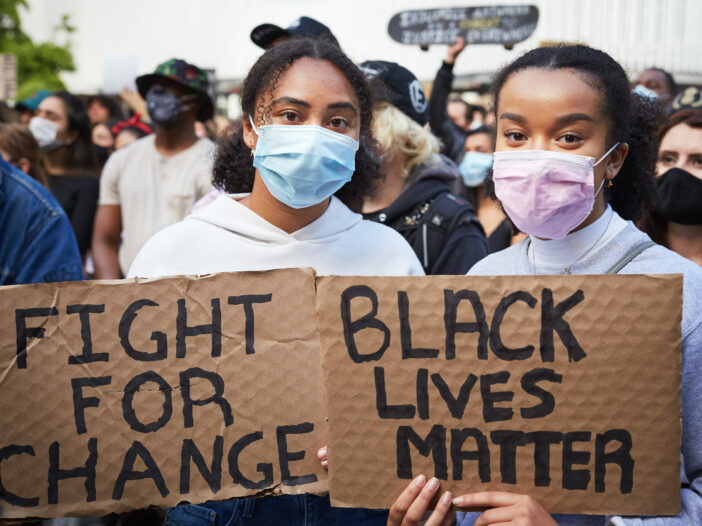 #BlackLivesMatter & Wellness
As we turn our collective attention to the celebration of contributions of African Americans during the month of February (and hopefully beyond the month), we must also face the depth of pain and injury caused by racist attitudes, behaviors and policies in the United States brought to light (most recently) through the #BlackLivesMatter movement. This movement for racial justice and healing has implications far beyond police accountability and criminal justice reform. Not only are people of color killed by police at disproportionate rates, the trauma and stress of racial hostility, threat, and prejudice takes a toll. African American psychological researchers have been exploring the effects of Racial Stress and Trauma (RST) experienced by brown and black skinned people in this country, and what strategies and interventions show promise for counteracting them.
LET'S BE HONEST
The first step in healing is to understand the injury. We must acknowledge that black and brown skinned people–including students at UW Madison–are harmed by the legacies of racism that continue today. As a nation we have struggled to grapple with the difficult truths that the United States was established by acquiring land through violent conquest of and broken treaties with First Nation peoples, followed by building our nation's wealth by enslaving and exploiting human beings of African descent for low cost labor.
These legacies are the backdrop for other systemic inequities that have unfolded for over two centuries of our history. Economic and political policies were specifically designed to prevent people of color from voting and securing loans for houses or businesses. Targeted racial violence through lynchings, cross burning, bombing, beatings, and wholesale violent destruction of black communities (Tulsa, OK 1921) have shifted toward racial targeting and lethal force by police, the public rise of white nationalism, and horrifyingly casual racially demeaning and disrespectful interactions. We are left with entrenched patterns of economic, educational and health disparities for BIPOC people as compared to whites in this country. (This doesn't even address the unethical and deadly research done on African Americans at the hands of white medical researchers).1
Why write about this in a health and wellness blog? Because the effects of history are alive and well at the University of Wisconsin, affecting the health and wellbeing of African American students at UW. Research has shown that while students of all identity categories experience stress and associated mental health challenges, BIPOC students (and students identifying as LGBTQ+) face additional challenges that stem from both subtle and blatant identity-based hostilities and slurs directed toward them (RST). People of color are more likely to receive poor health care, and it isn't clear that white models for coping with stress are appropriate to identity-based stress and trauma.
POSITIVE RACIAL SOCIALIZATION
In a December 2018 article, African American researchers argued that positive "(r)acial socialization (RS)—defined as the verbal and nonverbal messages that families use to communicate race to their children—can be a cultural strength and has been associated with positive outcomes…" Researchers are currently testing the impact of "frequent and competent use of Racial Socialization…to cope with the negative impact of Racial Stress and Trauma."2
The studies of positive Racial Socialization are still underway. Researchers are optimistic that by working with parents/caregivers and youth together, black families can strengthen their resilience and coping through positive Racial Socialization to diminish negative impacts of Racial Stress and Trauma through an EMBRace Process.3 This process stands for: Engaging, Managing, and Bonding through Race. Strategies include:
ENGAGE
Sharing narratives with members of a family (or trustworthy support network) about living as a black person and the degree to which stress and trauma have been experienced with this identity. The principle of connecting and sharing experiences can have a therapeutic effect. Human brains are wired to prompt social connections with loved ones when we are under stress. This process of connecting and verbalizing supports resilience when the strategies of Managing and Bonding are also enacted.
PREPARING FOR RACIAL BIAS
The necessity for parents to prepare their black and brown skinned children to experience and respond to racial bias is unavoidable. Research suggests that a proactive approach to bias preparation can both strengthen the bonds of family members and the confidence and resilience of youth experiencing Racial Stress and Trauma. This strategy is NOT about accepting bias, it is about preparing to respond. A parallel that helps illustrate this might be the way researchers differentiate internal responses of shame and embarrassment in response to experiences of harm or humiliation. People who internalize an identity aspect as the cause of the harm (I am stupid; I am clumsy; I am…) in contrast with those who may associate a behavior (I made a mistake; I made a mess; etc.) or be angered by the person harming or humiliating them (what an a$$h@!!). This strategy helps prevent internalizing negative identity associations from experiencing other people's racial bias.
RATIONALE FOR DISTRUST
Another aspect of Racial Socialization involves learning appropriate distrust of situations and people. This skill suggests that premature or unearned trust may in fact be detrimental to the health and safety of African Americans. The disproportionate levels of violence perpetrated by police, and the legacies of racial terror by white supremacist groups suggest that explicitly talking about the rationale for distrust continues to serve an important protective factor for people of color. This is akin to the scholarly approach of "a hermeneutics of suspicion" that interrogates inherited theories and arguments for explicit or embedded racial, cultural and gender bias.
ENHANCE RACIAL PRIDE
Researchers identified enhancing racial pride as another key strategy for managing Racial Stress and Trauma. Being intentional about naming and emphasizing values and strengths drawn from cultural legacies, family history, and personal character in the context of racial identity is a critical component in counteracting negative impacts of racially motivated stress and trauma. We practice this as a society through the celebration of Black History Month by highlighting and sharing stories of impactful legacies and positive contributions of African Americans. Personal examples of this include sharing stories about family members, local community members and even the affirmation of strengths seen in children and youth. This is an intentional, culturally specific practice of affirmation. It can be utilized by individuals with friends, family members and in communities to strengthen racial resilience.
EQUIPPING YOUNG ADULTS TO THRIVE
Black psychologists and researchers offer important correctives to Western European psychological theories, models and assumptions. Black psychologists have cited the African philosophical framework of ubuntu–that being starts in connection ("I am because we are, and because we are, therefore I am.") as a foundational framework.4 Coping with racial stress and trauma is not an individual undertaking. Building resilience and capacity to thrive in spite of Racial Stress and Trauma requires the support and efforts of family members, trustworthy friends, and other networks of support. Candid seeks to be part of that fabric of connection and support for UW students.
If you are Black, Indigenous, or a Person of Color studying at UW Madison, Candid Circles can provide a peer community to support your health and well being. If you are interested in exploring how to connect to a BIPOC peer wellness group, check out Candid Circles (elect to be placed in BIPOC peer group on the enrollment form).
Written by Ginger Morgan, PhD
Director of Candid–Health and Life Coach