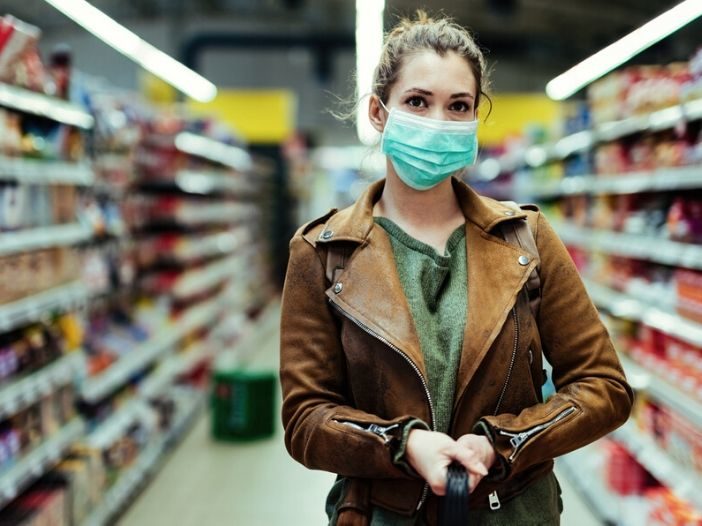 COVID-19 Hasn't Disappeared: Keep Practicing These Precautions
In the past few weeks, the sentiment surrounding the coronavirus pandemic has started to change. Wisconsin's Safer-At-Home order is lifted, many businesses are reopening their doors, and students are gathering with increasing frequency.
We're thrilled that some restrictions have been able to be safely scaled back, and we're excited to start to remember what "normal" life is like! After the isolating way spring semester ended, it's tempting to get together with every friend we haven't seen in a while.
But although our country is moving forward from strict isolation procedures, it doesn't mean COVID-19 is gone.
Keep practicing these recommended precautions to keep yourself — and our community — safe even as things open back up
Avoid going to crowded public spaces, especially indoors
Since the novel coronavirus first took our world by storm, we've learned more about its true risks.
COVID-19 spreads through person-to-person contact. This is most often through respiratory droplets within six feet of someone who is sick, but it can also live on some surfaces for anywhere from a few hours to a few days.
The best way to avoid contracting or spreading the coronavirus is to limit your risk of exposure as much as possible. For this reason, the CDC recommends continuing to avoid crowded public spaces — especially those that are indoors.If you do decide to go out and about, try to use outdoor seating as much as possible. Make sure any restaurants or stores you visit are following the health department's guidelines: Tables should be spread apart and all establishments should observe limited capacity.
Instead, take advantage of nearby outdoor recreational opportunities
A great way to get out of the house or apartment without high risk of COVID-19 exposure is to enjoy nearby parks and recreational facilities!
You should stay close to home to avoid stopping at gas stations or rest stops you wouldn't otherwise use. Thankfully, southern Wisconsin has no shortage of parks to enjoy — from simple trails around the lake to rigorous hiking at state parks, there's something for every level of outdoor enthusiast!
It's a good idea to call ahead to see what facilities are available and get up to speed on any specific precautions the parks might have you follow.
Be proactive when you are out and about
We know you want to get out and visit all the favorite places you've been missing since March — and we do, too! Here's how you can go out and about while helping keep everyone safe.
Wear a cloth face covering
Cloth face coverings, like masks and bandanas, can help slow the spread of COVID-19 by reducing transmission rates between people in public. They might not protect the wearer themselves, but they do help prevent you from unknowingly exposing others to the virus if you don't know you're sick.
This is particularly important in areas where social distancing is difficult to maintain.
Practice social distancing
Try to remain at least six feet away from anyone you don't live with. People can spread the virus before they know they are sick — and some patients never experience symptoms at all.
Use hand sanitizer after leaving stores
It's a good idea to bring a small container of hand sanitizer with you anywhere you go. This way you can use it immediately after coming in contact with communal surfaces, before you touch your face or own belongings.
Wash your hands frequently
As soon as you return home from going somewhere, make sure to thoroughly wash your hands with soap and warm water.
Don't feel as though you need to wear gloves
In most situations, gloves are not necessary. Practicing everyday preventive actions like social distancing, hand washing, and wearing face coverings should be enough to keep you and our community safe!
Pay attention to your mental health
Although things are opening back up, we are still in unprecedented times.
As much as there is a quiet rumble of excitement throughout the state, there is also a widespread feeling of unease. It's normal to feel concerned or overwhelmed by everything that's going on!
Take care of yourself, and pay attention to what you need in order to feel safe. Don't let anyone pressure you into going out and about before you're ready.If you have questions, concerns, or just need to talk, Candid is always here for you.
Written by Haley Young
Content Specialist, The Digital Ring