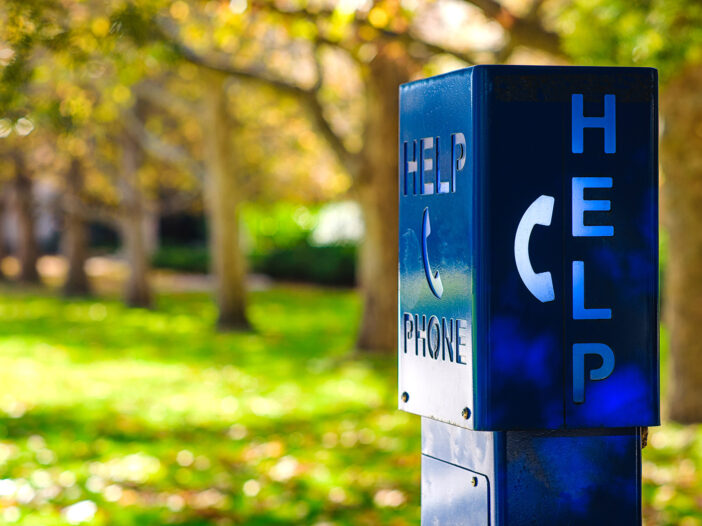 Don't worry — the goal of this guide is not to instill panic. Your college career will be filled with wonderful memories and positive interactions. But with any new scenario, it's important to take stock of your surroundings and understand some basic safety tips to protect yourself and those around you.
Growing up, we often look to guardians to keep us safe; for many of us, moving away to college may be the first time we accept full accountability for our personal safety. Learning these skills now will set you up for safety throughout your college years and benefit you well into the future.
Is campus safe?
We have good news: college campuses across the country have only grown safer over the years. The US Department of Education's Campus Safety and Security division reports 28,268 criminal offenses for the year 2020. If that sounds like a lot, allow us to add a little context. In 2005, the number of reported offenses was nearly three times the 2020 total. That's a pretty sizeable difference. Over the last 15 years, criminal offenses on college campuses have declined at a consistent rate.
Ready for more good news? The University of Wisconsin stacks up favorably against other Big Ten schools when it comes to on-campus safety. In 2020, UW-Madison reported 93 criminal offenses on campus, while some schools of equivalent size reported over 2,000 offenses in the same category. When it comes to crime, it's important to remember that not every offense gets reported — but we are certainly grateful to the protocols across campus that keep our students safe! We encourage you to take a look at the statistics for yourself on the Campus Safety and Security website to understand the up-to-date outlook on campus safety.
Common campus crimes
While trends are moving in the right direction when it comes to overall student safety, you may find it useful to recognize patterns in criminal behavior. Campus crime tends to fall into three main categories: forcible sex offenses, burglary, and vehicle theft. A 2019 report from the National Center for Education Statistics reveals 44 percent of reported campus criminal incidents as forcible sex offenses, followed by burglary at 33 percent, and vehicle theft at 11 percent.
Knowing these figures can help you understand what to look out for on campus and respond accordingly.
Let's talk safety tips.
So what can you do to stay vigilant on campus? We're running through our most important safety tips.
Get to know the campus safety office. At UW, we partner with the Madison Police department to protect our students. Need help? The UWPD is available for you 24/7.
Register your valuables. Between TVs, gaming systems, bikes, laptops, and other valuables, it's likely that you own something that would be expensive to replace. Be sure to register these items with campus police; that way, if something gets stolen, the police may be able to track it.
Follow ridesharing safety protocol. Grabbing a ride can be a great way to get home safely, but be sure to exercise caution with unfamiliar vehicles. Always verify the ride with the license plate and ask the driver to confirm their details. Remember to let someone know where you're going and when you'll arrive — you can even share your trip with friends and family directly from the app!
Exchange emergency contact information with your roommate(s). It's always a good idea to ensure there's someone who can get in touch with your family or friends in the event of an emergency.
Have a plan. Knowing where you're going, who you're going with, and how you're getting there will help you avoid surprise scenarios and hasty decisions.
Key cards are king. It can be tempting to want to help a stranger out by admitting someone without a key card into a building, but anyone who is allowed access will be able to get in through the proper channels.
Lock up behind you. Even if you're popping down the hall for a quick chat, it only takes a few seconds to lock the door.
Take precautions when drinking. Never leave your drink unattended or accept a drink from someone you don't trust. Know your limits and plan accordingly.
Campus resources
You're not alone in ensuring your personal safety. UW has a number of tools and protocols in place to keep students safe. Here are a few that you should know about:
Candid is here to help.
We've given you a lot to consider, but our number one tip is to always follow your intuition. You'll never regret erring on the side of caution when it comes to ensuring your safety.
At Candid, our mission is to support you in your personal wellness. If you're looking to connect with other students or Candid staff over any of the information covered above, please reach out.
Written by Abby Parr
Content Specialist, The Digital Ring