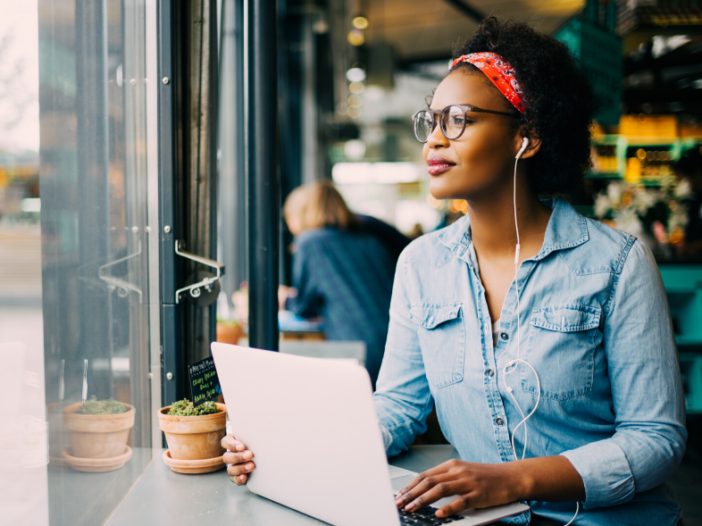 Improve Your Mindset by Practicing Gratitude
Physical exercise, a balanced diet, and 7-8 hours of sleep usually top the list of ways to be and stay healthy. There's no denying how important these things are, but sometimes it's overwhelming to try to fit them all into your hectic student schedule.
Thankfully, there's an even simpler secret to improving your wellbeing: gratitude. Subtle shifts to the way you think about your life can have a drastic impact on your mental and physical health!
Let's take a look at the how and why of practicing gratitude to improve your mindset.
First things first: Negativity is natural
As humans, we instinctively pay more attention to bad experiences than good ones. Negative, emotionally charged events trigger increased activity in the orbitofrontal cortex and amygdala — two parts of our brains that play a key role in the formation of memories.
A few theories support this natural inclination to remember bad things:
Negative experiences can be important learning opportunities, and it's beneficial to remember them clearly so we can avoid similar mistakes moving forward.
Negative events involve more thinking and processing, which helps them register more firmly in our brains.
Because modern quality of life is so good on average, negative experiences might stick out more in comparison.
Whether or not there's scientific merit to focusing on the bad, though, it can be pretty detrimental. In a practical sense, most of us don't have to remember negative experiences so saliently, because our lives just aren't as dangerous as they were even a hundred years ago.
Instead, this preoccupation with bad emotions hurts more than it helps.
And to add insult to injury? It's even easier to remember negative experiences when we aren't getting enough sleep — which, let's face it, most of us aren't.
Thankfully, practicing gratitude can help.
Gratitude has many benefits
In its simplest sense, gratitude is powerful because if you're thankful for what you already have, getting new things becomes a bonus instead of a necessity for happiness.
We spend a lot of our lives trying to acquire "more" — better grades, a nicer body, a higher income. When we flip the script and take time to appreciate what we have, we guard ourselves against greed and dissatisfaction.
Here are some other benefits of practicing gratitude:
People who report high levels of gratitude experience fewer physical aches and pains. The mind-body connection is profound, and thankfulness can play a key role in keeping you healthy.
Gratitude can make you sleep better. This contributes to a helpful cycle: When you get more rest, you're better able to remember positive events. And the gratitude that results from remembering positive events helps you sleep better. A win-win!
If you are grateful for your physical body, you are more likely to take care of it by feeding it well and finding time for exercise — even if you make these decisions subconsciously.
Practicing gratitude makes you more empathetic and likely to respond to stressful events in a prosocial way.
Gratitude builds relationships. When we feel appreciated, we are more likely to lean into a friendship for the long haul. Telling people you're thankful for them goes a long way!
How can you practice gratitude?
There are many ways to practice gratitude in your daily life. The decision to focus on thankfulness doesn't need to be big or overwhelming — small, consistent steps can make a world of difference.
Be thankful first thing in the morning
Right when you wake up — even before you put your feet on the floor — take a few seconds to acknowledge a few things you're grateful for. It can be especially helpful to say them out loud!
Here are some examples:
I'm grateful for the chance to learn today.
I'm grateful for my comfortable bed.
I'm grateful for the food I'm about to eat for breakfast.
I'm grateful for the alarm that woke me up on time.
Many of us have a bad habit of starting the morning off grumpy. It's normal — we all wish we could stay in bed sometimes — but it unfortunately sets the tone for the rest of our day. By practicing gratitude first thing, we put ourselves in a healthier mindset from the get-go.
Consider a gratitude journal
Writing down what you're thankful for and keeping it in one central place — like a dedicated journal or mason jar full of little notes — is an especially great way to practice gratitude. This way you can easily surround yourself with positive thoughts when you're having a bad day.
What's more? Writing things down by hand makes them feel more tangible and — get this — easy to remember. By taking a few seconds to log the good things in your life, you'll help your brain be more positive in the long run.
Lean into your support networks
Our world is busy, demanding, and all too often negative. We get it! Being a student is tough — but finding the right support network can make all the difference.
Candid is here to help you along your holistic wellness journey. Stay tuned for more resources and activities to cultivate a healthier mindset.
Written by Haley Young
Content Specialist, The Digital Ring