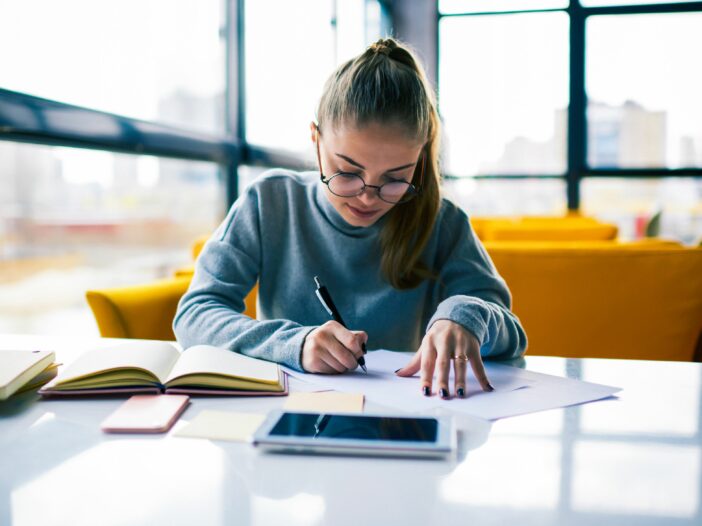 Finances can be overwhelming, especially in college. Between tuition payments, textbook charges, rent deposits, food, and the occasional bit of fun, it feels like money slips right through your fingers. Where does it all go?
One of the most important parts of financial management is simply understanding where you spend most of your funds. Once we know that, we can start making more intentional choices about where to invest our resources.
Here are some easy ways to start paying attention to your expenses (all without adding the work of another part-time job or three-credit course to your schedule, we promise).
Why does tracking your spending matter?
You'll be able to take some of the stress out of money management — and ultimately live a more fulfilled life doing the things you love without worrying if you'll be able to afford them. Budget creation and expense tracking is an important piece of overall financial literacy.
Today's decisions affect tomorrow's opportunities
What you buy and how you pay has an impact on both your current and future financial wellbeing. Habits you start developing today can affect what loans you qualify for down the line — as well as your ability to meet emergency expenses if (and let's be honest, in our unpredictable world it's more of a when) they arise.
Be empowered by knowing your own situation
So often we find ourselves looking for "quick fixes" to problems we face in our lives, from our studies to relationships to money.
While generalized financial tips can be helpful, it's important to remember that each of us lives our own experience. We all have different long-term goals, priorities, and sources of joy!
What's more helpful than high-level statements like "cut out coffee on the go" or "eat more meals at home"? Developing a larger understanding of where your money goes — and then being able to decide for yourself whether you're happy with that allocation of resources.
How to start tracking your spending
Make purchases with a digital trail
If you make most of your purchases with a credit or debit card, your banking app might already categorize your spending for you. Take a look the next time you check your balance! This is a great place to start, since you might forget to make a mental note of every time you swipe.
You can also track your Wiscard spending in your account management center.
Use your resources!
Candid previously hosted Renae Sigall from UW Credit Union for a Candid Class webinar on financial well-being. She spoke about creating a spending plan and personal budgeting — you can read more and watch a recording of the presentation in this article!
In particular, the spending plan budget worksheet can be a great place to start.
What if you find spending habits you don't love?
You've started tracking your expenses, and you're dismayed to realize that the way you spend your funds doesn't align with your biggest long-term priorities. What do you do?
Here are a few things to consider.
Start small
Large, "cold-turkey" change can be difficult to maintain. Instead, set incremental goals that feel reasonable to tackle!
An example: Maybe instead of not eating out at all anymore, you first try to reduce your meals on the go from five times a week to two.
Spend time sitting with your values
Your personal values should drive the way you live — and the way you manage your money is part of that.
Reflect on why you spend on what you do. Is it because you just aren't thinking? Because it's convenient in the moment? How can you remind yourself of your long-term goals the next time you're faced with an impulse purchase decision?
Think about give and take
Maybe your weekly coffee dates with friends are an integral part of your college experience. Don't feel pressured to stop them just because a high-profile finance article recommends cutting all "unnecessary" costs — remember that you get to decide what's truly necessary for your holistic wellbeing!
Instead, try to think about what things you are willing to sacrifice to make space for the ones you really care about. Sometimes you will have to deal with uncomfortable realities — we can't do everything we want all at once! — but by prioritizing what matters most to you, you can make those choices more confidently.
Candid is here for you
Finances can be stressful — and as our life seasons change, so will our expenses and income. The good news is that you don't have to go it alone! We've previously shared some additional tips on de-stressing money, and we're always here to chat.
Don't hesitate to reach out and let us know how we can best support you!
Written by Haley Young
Content Specialist, The Digital Ring