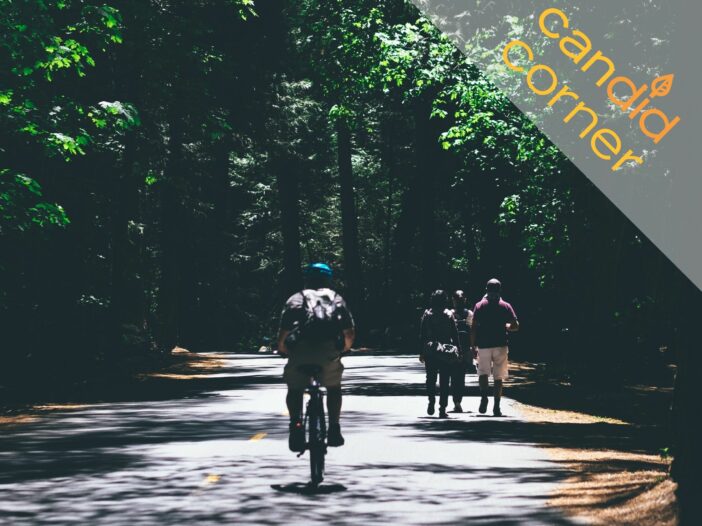 Candid Corner: Ride Your Bike in One of the Top Cycling Cities in the Nation
Did you know that Madison is considered one of the five best cities in the nation for riding a bike?! And we have a platinum designation from the League of American Bicyclists. Cycling is a fantastic way to exercise, enjoy the outdoors, and see more of Madison and the surrounding area. Give it a try! Take advantage of the opportunity to ride a bike in one of the top cycling destinations in the country.
There are many excellent paved trail options for riding around Madison and out into the beautiful countryside nearby. The Monona Lake Loop is a favorite route that takes you around beautiful Lake Monona. The UW Arboretum is a calm and relaxing place to take a short ride through canopies of trees and along the shore of Lake Wingra (the Arb, as it is called, is also a great place to hike).
The Southwest Commuter Path begins at Camp Randall (at the corner of Regent and Monroe) and travels southwest through Madison neighborhoods. About 5 miles from Camp Randall, you will reach a bike trail roundabout. There, you can keep going south into picturesque farmland on the Badger State Trail which eventually turns from pavement to light gravel (you can even ride all the way to Illinois if you are so inclined!). A very popular riding destination south of Madison is the small town of Paoli, about a 15 mile ride from downtown. Instead, you could head west at the bike roundabout on the Military Ridge Trail into Verona and beyond. Or, you can turn east to join the Capital City Trail loop that will bring you back into downtown Madison.
If you are interested in much more hilly and challenging terrain head out to Blue Mounds State Park (the highest point in southern Wisconsin) where you can ride on the roads where the Olympic road race was going to take place if Chicago had been selected for the summer games.
Don't have a bike of your own? No problem! You can check out an electric assist B-Cycle bike from one of the many stations located all around campus. There are big discounts available for UW-Madison students and employees. B-Cycles are best for shorter rides as usage over 30 or 60 minutes (depending on pass plan) cost extra. Get a daily or annual pass, check out a bike, and head out!
Written by Mark Elsdon, M. Div. & MBA
Executive Director of Pres House