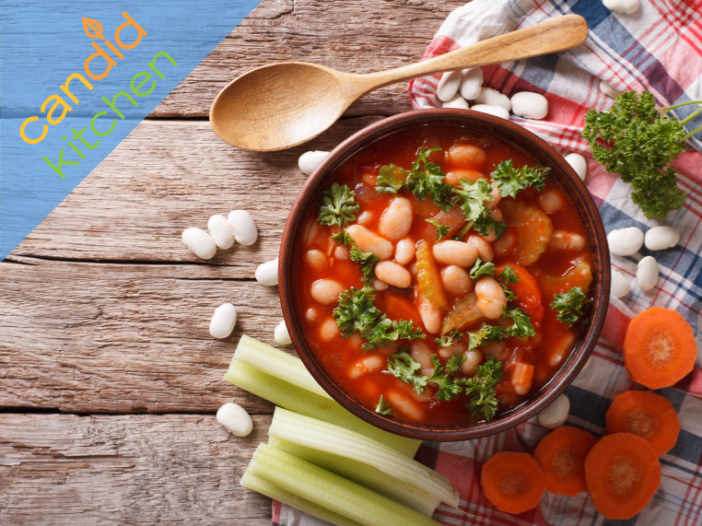 Simple Soups for a Super Winter
Winter is soup season! The best time to cook one gigantic pot and live off its warm, comforting contents for the better part of a week. Recipes are helpful, but with a core set of ingredients and knowhow, it's super simple to mix-and-match your own satisfying soups: perfect for those winter weeks you want to hunker down and work with whatever's in your pantry.
Let's look at some of the building blocks for your hearty winter soup.
Carrots and onions. Two of soup's most reliable veggies. Stored well, carrots (refrigerated) and onions (cool, dark pantry) can last weeks — an eon on the time scale of fresh produce! Celery gets an honorable mention as another veteran veg. The full trio forms a traditional Italian soup base.
Broth. Shelf-stable chicken or vegetable broth — or, add hot water to bouillon. In a pinch, you can even make a decent broth with just water and dried herbs! The flavors will marry as they simmer.
Alternatively: for some low-waste habit-forming, you can make your own broth by accumulating vegetable scraps (stems, roots, skins) in a freezer bag instead of trashing them. When the bag is full, simmer the scraps for hours in a big pot to boil out every bit of flavor and nutrients. Store the strained liquid for as-needed broth. Continue the cycle with new veggie scraps and you'll always have broth on hand!
Seasonings. Garlic lasts a while in its full head, like its cousin the onion, but its papery cloves can be finicky to chop and press. Speed things up with a refrigerated jar of minced garlic, or dried. Keep dried herbs on hand, whether a big Italian seasoning mix, or individuals like thyme, oregano, rosemary, parsley, and basil. Add a bay leaf to season the soup as it goes — just take it out before serving! Lastly, don't neglect salt and pepper.
Canned tomatoes. Diced or crushed tomatoes will round out any soup where you want a hearty, vegetable-based flavor. Add at the same time as broth, straight from the can. Just a scoop of canned tomato paste will also tomato-ify your soup without adding texture.
Beans. Kidney, white, chickpeas: beans are the protein-rich backbone to classic soups like minestrone. They're cheap, shelf-stable, and super quick if canned — just rinse them first.
Noodles. Use any bite-sized pasta like ziti, rotini, shells, or elbows to make your winter soup more of a complete meal! Egg noodles are classic for chicken noodle soup. Or use barley for a similar effect, like in beef barley soup.
Meat. Sausage, chicken breast, or beef can revolutionize the feel of a soup and amp up its protein — just make sure your meat is cooked through before you add all the liquids and switch to a low simmer. Vegetarians are in luck too: plant-based sausage and meatballs are steadily entering grocery stores, though they can run a bit expensive. Either way, soup is so versatile you can always make a hearty meal with or without meat (real or imitation).
Other vegetables. The best part of soup is using up whatever you have. Zucchini, peppers, peas, green beans, potatoes, broccoli… the recipe is yours! A bag of frozen mixed vegetables is great for low-planning winter meals.
Canned soup. It's a bit unorthodox, but you can also use this same skillset to "doctor" or build on canned and condensed soups, like this creamy "semi-homemade" chicken noodle soup.
Flavor correction. Taste your soup before serving: does it need anything? Is it too acidic? Add a bit of sugar to balance. Needs more kick? Crushed red pepper or hot sauce. Too bland? Maybe it needs salt. All adjustments are fair game, and with practice you'll get to know exactly what you like, and how flavors interact (check out the Flavor Star).
Order of Operations
Great, you've decided what to include in your winter soup! This isn't quite a recipe, but a template for putting it all together, as you build the skills to improvise and adapt.
Start with a pot large enough for all your ingredients. Chop your vegetables so they're ready to go. A rough chop will mean tougher veggies; a fine dice will mean they get soft quickly, so chop as desired.
Over medium heat, heat olive or vegetable oil and saute chopped onions, carrots, and celery until they start to soften. Season generously with black pepper. You want the veggies partially cooked; remember, they'll keep cooking as the soup simmers!
If using meat, cook the meat until no longer pink, using half the pan while the veggies saute in the other half. Or, use a second pan if desired.
If using garlic, add for the final minute of the veg/meat time and saute just until aromatic.
Add your liquids: broth, tomatoes, water as needed. Add dried herbs and bay leaf. Bring just to a boil, stirring occasionally.
Add your noodles, beans, and additional veggies. Lower heat to maintain a gentle simmer, and cook until the noodles are al dente. Let the pasta be your metric for calling the soup done. If there's no pasta, call it done when your veggies are tender and the soup is seasoned to your liking.
Add salt and flavor corrections to taste. Serve with warm bread for an extra hearty winter comfort meal!
Written by Becca Bedell, MFA
Coordinator of Residential Programs at Pres House Apartments