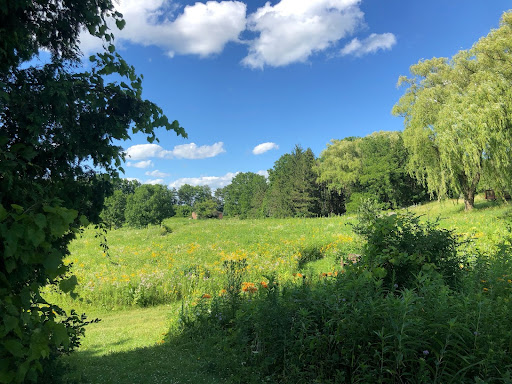 Unplug at Holy Wisdom Monastery
Located just twenty minutes northwest of the UW-Madison campus, Holy Wisdom Monastery is a place of prayer and hospitality, committed to environmental justice and respect for people of all walks of life. Holy Wisdom Monastery has a little bit of everything. You can explore forest trails, walk through prairies of wildflowers, and spot the occasional deer or owl on your path. Their extensive gardens, oak savannas and ponds are a perfect getaway from the hustle and bustle of life on campus. Hungry after your walk? Enjoy a healthy, hearty midday meal. If you are curious or interested in Benedictine practices, you can join and experience their midday prayers. Guests are invited to borrow a book from the library to read on the grounds. Maybe you enjoy being active… Holy Wisdom welcomes volunteers throughout the year. Architecture enthusiasts should check out the Benedictine-inspired design of the main building, keeping you in touch with the surrounding nature wherever you find yourself. Their spaces are open to all throughout the week. 
I got the chance recently to spend a Saturday afternoon at the monastery. On my hike up to the prairie vista that overlooks Lake Mendota I encountered chipmunks, deer, birds, flowers, trees, and friendly faces. At the overlook I took time for some simple meditations. Eyes closed, breathing deep, noticing how my body felt, noticing the activity of my mind and emotions. I noticed the breeze and the temperature of the air on my skin, the warmth of the sun. I noticed the sounds around me – bumblebees, rustling grass, birds, and other familiar and unfamiliar sounds. It was a much needed moment of unplugging, grounding, centering, and remembering the many simple joys of the earth around me, and of life itself. 
Additionally, I spent some of the day meditating on Benedictine spirituality and values–focusing specifically on the value of embracing change. So much has changed in the past few years in our world. Embracing change feels relevant to a lot of us right now. The inevitability and uncertainty of change holds the potential for beauty, healing, and resistance. Whether it's the personal changes in our own life experiences, the changes in climate and our call to respond, the fight for social justice and healing–how might we hold and notice these changes, and navigate them in our already full lives?
Whether you have similar questions to mine or different ones, I encourage you to find time to unplug. Get away from campus and nestle into nature if you get the chance. For more information about Holy Wisdom Monastery and its nature preserve, visit https://holywisdommonastery.org/ or reach out to Sister Denise at denisew@holywisdommonastery.org. You can also reach out to me with any questions about the monastery, mindfulness meditation, or getting to the site!
Written by Manato Jansen, MDiv
Associate Director of Residential Community at Pres House Apartments