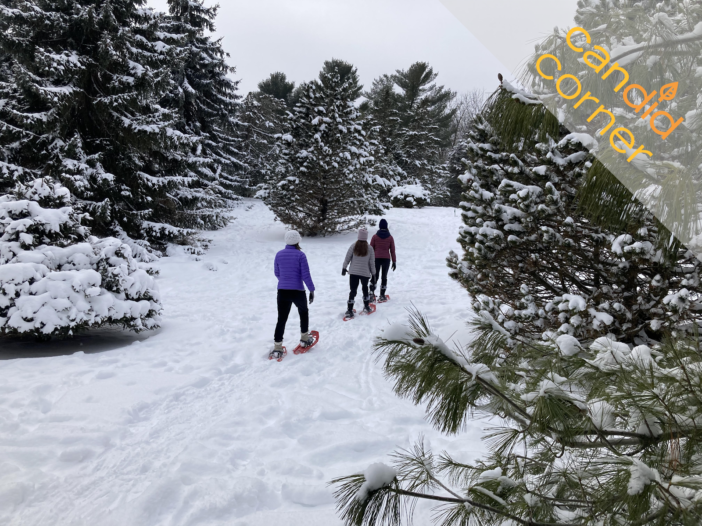 Candid Corner: Snowshoeing around Madison
Yes, it may be cold. But the deep winter in Madison is also beautiful! And there are plenty of ways to get outside and enjoy it. Remaining active and getting outside is especially important during the pandemic that limits our options for recreation, exercise, and connection with others.
Snowshoeing hits all those highlights! By strapping a large plastic or webbed snowshoe to your foot and walking outside you can enjoy the beauty of Madison in the winter, stay healthy with exercise, and enjoy a socially distanced, outdoor activity with friends.
We shared some information about cross-country skiing in a previous post. And cross-country skiing is also a great way to enjoy winter outside. But snowshoeing is even easier. It requires less equipment and less specialized skill to enjoy. People say that if you can walk, you can snowshoe. That is basically true, but walking in snowshoes is different from regular walking. It feels like marching in a band – pick your feet up high!
You can snowshoe just about anywhere there is enough snow (usually around 4 inches on the ground or more). Snowshoeing is fun by yourself or with friends, but if you go alone be sure you know where you are and that you are dressed appropriately for the weather.
So how do you get started? If you don't own a pair of snowshoes you can rent snowshoes for just $5 per hour at Henry Vilas Park, not far from campus (you could also try ice skating while you are there). You can use the snowshoes right there in Vilas, take them into the UW Arboretum for a beautiful winter walk, or go to just about any park or green space in the area for a walk. One important restriction to remember is please do not hike or snowshoe on trails that are groomed for cross country skiing – you'll ruin the trails for skiers.
The City of Madison has more information about where to snowshoe, how to rent a pair, and tips for trying it out here. Give it a try and enjoy the beauty of a winter walk in snowshoes!
Written by Mark Elsdon, M. Div. & MBA
Executive Director of Pres House