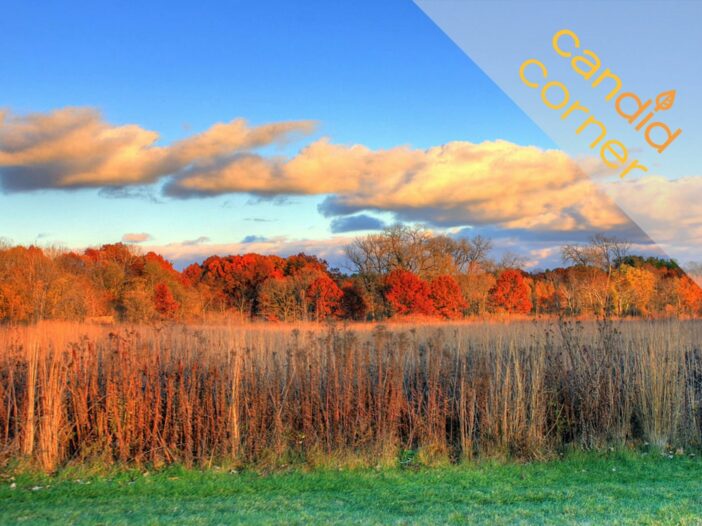 Candid Corner: Take a Walk in Nature, Right Here in Madison
One of the best ways to attend to our physical and mental health is to simply take a walk. Pausing in the midst of studying and stress to get out in fresh air and move is a fantastic way to reset and refocus.
It is wonderful to be able to take a full or half day to get out in nature and "get away from it all." But sometimes we don't have that much time. Thankfully, Madison is full of beautiful places to walk and hike, close to campus, right within the city!
Most UW Madison students are familiar with the lakeshore path that runs along the shoreline of Lake Mendota on the UW Madison campus. The Lakeshore Preserve, and the trail out to the end of Picnic Point, are a great place to walk, ride a bike, or just sit by the lake. But that isn't the only place nearby.
The UW Arboretum (pictured above) is full of trails, trees, and peace. You can walk deep in the woods, alongside another lake (Wingra), or in open prairies. Be sure to visit in the spring when there are blossoms on the trees, stop to smell the summer wildflowers, crunch through spectacular red, orange, and yellow leaves in the fall, and find peace in the snowy stillness of winter.
A little further west you can find Owen Conservation Park. Owen is tucked in neighborhoods and you would never know it was there. But as you walk through woods and prairies you will quickly forget you are still in the city…until you get to the top of the hill where you will catch a glimpse of the capitol downtown.
To the southeast of campus, on the other side of Lake Monona (yet one more lake!), you will find the Capital Spring Recreation Area and Lake Farm County Park. This is a large area with lots of hiking and biking trails. You can even walk over marshland and a fourth lake (Waubesa) on a newly installed boardwalk into the town of McFarland.
There are many other urban parks worth checking out. Wherever you go, silence your phone, take a deep breath, and enjoy the fresh air. 
Written by Mark Elsdon, M. Div. & MBA
Executive Director of Pres House